Latest Foot Jobs (Page 3)
Angelica needs more professional photos for her portfolio so she heads to a local photographer who says he will snap shots of her. But when she gets there, he wants her to get naked while he watches. She really needs the photos and the photographer seems harmless, so she strips. That's when she realizes that he has been checking her feet out and wants a little bit of a rubdown. "You want to be the first foot fuck of my entire life?" she asks him while playing footsie with his cock. Of course he does. Angelica may be new to foot fucking, but she milks his dick with ease and gets the huge load she has been waiting for. "Oh, that's the first time I've ever had cum all over my feet," she says while she rubs her peds together. And you can bet that it won't be the last.
More Feets »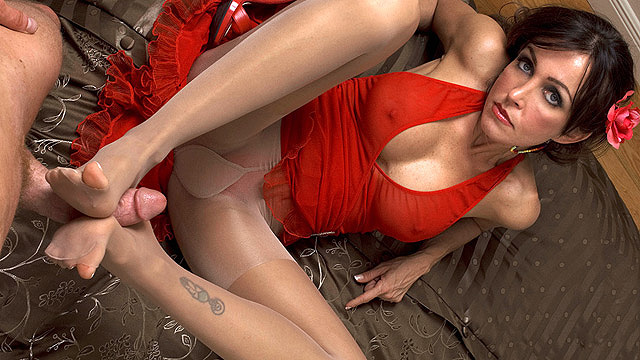 "My new shoes make me feel so sexy," says Christina, a hot 40something in mile-high red stilettos and sheer pantyhose. "I feel like a sexy flamenco dancer and I want to dance for you." And all that dancing and prancing turns her on because before you know it, she is on her back and sliding her feet all over a stiff dick. Nothing like a little bit of cock smacking and rubbing with a horny set of peds to make a foot job extra special. And once her feet are on this meat, Christina's hose get ripped to shreds so that she can get her bare soles all over this hard-on and make it erupt! When her soles are coated from the heels to the tips of her toes, she rubs all of that cum in to show her appreciation.
More Feets »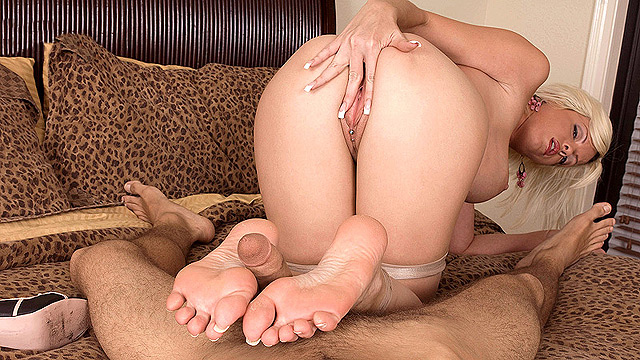 "Hey baby! I have a surprise for you for our anniversary," says Jordan. "I know that you like to be dominant, but today, I thought it would be hot if we tried something else. Today I am going to foot fuck you." That's when Jordan asks her boy toy to take her shoe off and smell it. "You like that stink?" she asks playfully. He must because his cock gets nice and hard when he sees her nylon-covered toes. That's when Jordan strips down to just her stockings and starts her slutty ministrations on his hard-on. It isn't long before she is rubbing him down and cheering for him to cum. And when he does, Jordan is so excited at her foot fucking prowess, that she giggles like a school girl and marvels at all of the cum pouring out of the cock between her feet. She might have surprised her boyfriend with a foot job, but the amount of cum that he gives her surprises her right back!
More Feets »
Morning wood should never go to waste and no one knows that better than Sara, a horny brunette. Sara knows that the best part of waking up is being able to roll over and run her feet all over her boyfriend's stiff one in the morning. And he doesn't mind one bit. She unleashes his raging boner from his boxers and gets to work, sliding her smooth soles along the shaft and caressing his nuts with her toes. She gives him her foot-pussy and then he towers over her while she lays back and lets him hump her arches over and over. When he is ready to go, she offers up her soles to receive his seed and then puts her toes in her mouth to clean off every drop of his cum from her digits. Some people need coffee to get going in the morning; Sara just needs hard dick in between her feet.
More Feets »
When you crave feet, getting your hands on them is a must. That's why having a girlfriend like Sara, who likes to have her feet fondled and washed, is important. When she knows that her boyfriend is coming over, she starts her ritual of bathing and rubbing suds all over her feet. And when he comes over and catches her mid-footbath, she lets him wash her feet for her and scrub them with a soft-bristled brush until they are smooth and supple for him to slide his dick between. She puts her damp digits on his dick and fingers herself so he can see how much pleasure she gets when she gets to foot fondle his goods. She gets his dick nice and hard and then flips over to let him have a look at her bulbous, creamy, white ass and wet and thick pussy. She lets him fondle her slutty, puckered asshole and finger her cunt while she foot fucks him. Then she is on her back so she can grip his cock with her arches and finger fuck herself. And Sara pumps all the hot cum out of this dick with her peds until it is shooting sauce everywhere.
More Feets »