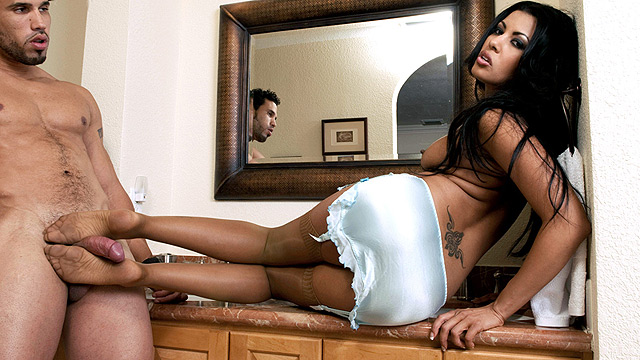 When Mr. Robbins catches his maid, Giselle, sifting through his wife's jewelry and trying on expensive pieces, he fires her. But this nosey maid isn't going anywhere. In fact, she tells him that he is going to give her a raise. And what's the reason for her impertinence? She knows his dirty, little secret. You see, Mr. Robbins likes to wear women's shoes and peruse kinky foot porn. She lets him know that he is going to suck her feet and give her more money. And like the dirty footboy he is, he complies. She makes him suck her feet and jack off for her. Then she towers over him while he lies on the floor and works his cock while she tells him what a dirty pig he is. And when she is ready, she demands that he cum on her soles. This is one maid that doesn't take any orders!
More Feets »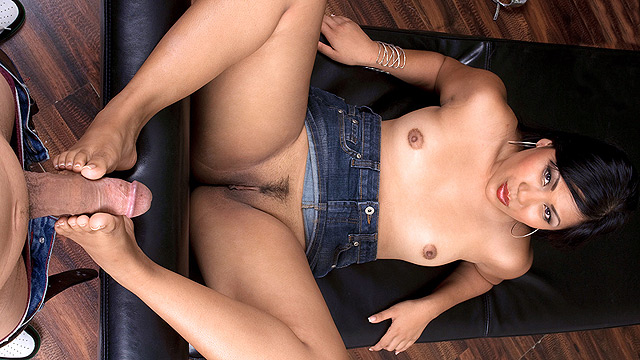 There is something about an Asian girl with nice feet that makes your dick hard, isn't there? Well, Kyanna is that Asian girl and she's a foot virgin. But not for long! Because she knows that you love watching feet and she likes the attention you give her when she lets you look at hers. So, watch her and tell her what to do because she is willing to take her shoes off and play with you. (As long as she can play with her pussy!) You see, Kyanna isn't experienced in foot play, but she is eager to learn. So she'll strip and then let you have your way with her. Even down to the moment when you cum on her virgin soles for the first time and send her over the edge. Make sure it's a huge load!
More Feets »
Misty is lying out by the pool when she notices a man in the bushes watching her as she washes her bare feet. She recognizes him as her neighbor and then she realizes that this pervert is touching his cock to her. Instead of being mad at him, she is kind of turned on by his boldness. In fact, she plays coy about foot play, but she is secretly getting off on his ministrations to her toes...especially when he slides his wet fingers between her digits and stretches them wide. She imagines him fingering her pussy while he fingers her toes. When he asks if she will make his dirty fantasy come true by having some foot sex with him in broad daylight at the community pool, she agrees. These two go at it like rabbits out in the open until he busts his load on her outstretched feet right by the water.
More Feets »
Women in high heels are prone to accidents, and Puma finds out the hard way when she twists her ankle while going up the stairs to her hotel room. Luckily for her, a Good Samaritan sees her in distress and helps her by taking her to his hotel room and performing first aide on her injury. He shows her some exercises she can do to make her feet feel better. Of course, one of those exercises includes putting her feet around a hard dick. Luckily for her, handling her feet has made our hero's junk nice and stiff for Puma's soles. These two use spit and lotion and make his dick and her feet slippery for a nasty foot job. Puma is fascinated by how good and freaky it feels to bang a cock with her feet and somehow forgets she is even injured. It's not long before she makes her savior cum, proof that sometimes you can heal an injury with just T.L.C-Tender Loving Cum. Once her feet are soaked, he slides her shoes back on and sends her to the mall to do some shopping...while her feet squish around in her shoes full of cum!
More Feets »
Raven's your average teen who likes to talk on the phone, text and go to the mall to find cute boys to hookup with. But she doesn't want to go all the way, yet. So when the cute guy she met at the food court keeps checking out her feet and then takes her number, she hopes he calls her for some good times. Our food court guy must know a good thing when he sees it, cause he calls her and asks to drop in at her house. And it's no surprise to her that when this guy comes over, he wants to rub her feet. That's when she tells him to take his pants off. You see Raven is good with her feet. How good? Good enough to stroke the cum out of this stiff one while rubbing on her juicy, pink pussy until she cums. And then she asks him to coat her teen tootsies with his jizz and plays with it. Smart girl...not a drop of cum goes to waste.
More Feets »