Latest Foot Jobs (Page 4)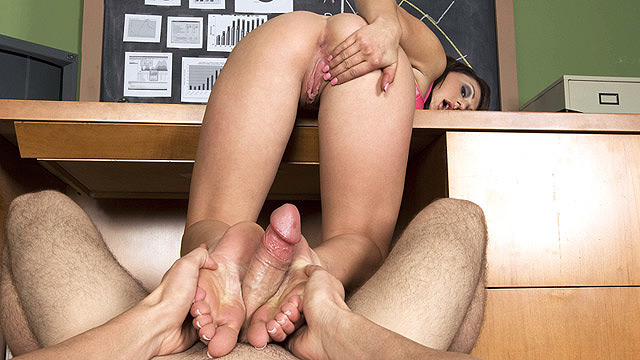 Chloe is an overworked and underpaid executive who spends 14-hours days in the office in mile-high stilettos. Her feet get so tired. Who could blame her for taking her shoes off and rubbing her tired tootsies for a while? But all that friction on her soles and between her toes makes her so horny that when the I.T. guy comes in to fix her computer and shows some interest in her legs, she lets him have his way with her. He slips his meat in-between her arches and slams her for all she is worth. And all that pent-up frustration makes Chloe extra horny. She asks him to slap his hardness all over her soles because the noise excites her. What excites her even more is when he splatters his goo all over her heels and rubs it in. Nothing like a little bit of cum to relive stress.
More Feets »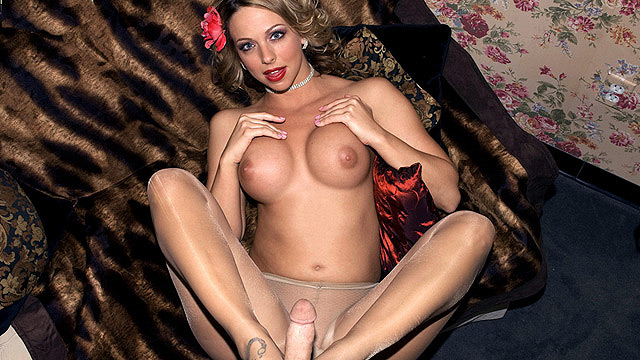 "Are you watching me? Did I say you could watch?" asks blonde bombshell Brianna Beach. "Look at the way you are staring. You know what you are? YOU are a FOOT FREAK!" And there is nothing wrong with that. You see, although she does think that you're a footboy, Brianna wants you to earn the right to fuck her peds. She pushes her thighs together so that her stockings rub and makes the noise that is like a symphony to your cock. And while your cock is twitching, Brianna is dangling her shoes and getting her feet ready to pleasure you by flexing them and making her foot pussy nice and tight. But she doesn't want sticky cum on her stockings, she wants in on her pantyhose, so she gets dressed up to give you the foot job of your life. And Brianna isn't satisfied until her hose are shredded and her soles are covered in your sauce.
More Feets »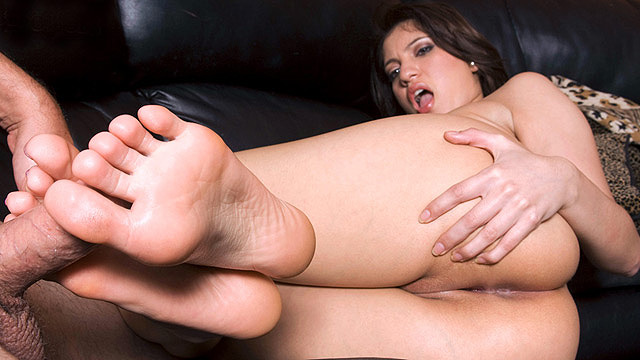 "Sometimes, when I play with myself, I like to rub my feet on the carpet. Is that weird?" asks Dominique, a long-legged Latina. Of course it isn't. We encourage all sorts of foot rubbing and touching and even fucking. That's why we set Dominique up with her first foot fuck of all time. She has her feet lotioned, rubbed and then thoroughly fucked by a helpful footboy who wants nothing more than to cream her virgin peds. Of course her pleasure is important, which is why he encourages her to rub on her clit while he pounds her peds. Watch Dominique's caramel cunt ooze while her soles are slick and sodden with lust. For a foot virgin, this little lady sure can give a frenzied foot job!
More Feets »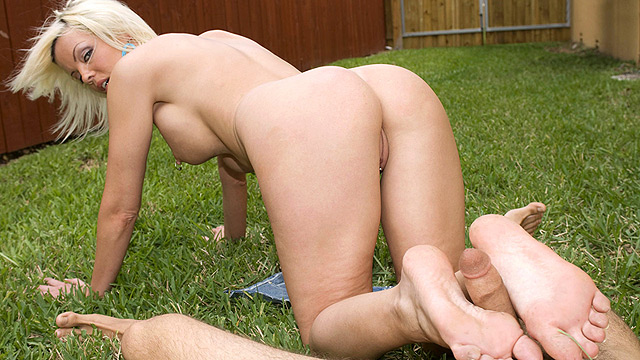 They say that the grass is always greener on the other side. We say the grass is always greener when there is a hot woman walking around on it with her bare feet! Jordan is a housewife who has nothing better to do with her time than to harass the lawn man. (He likes it.) Every time he finishes mowing her lawn, she comes outside barefoot and criticizes the job he has done. Then she demands that he wash her dirty feet, too. (Again, he likes it.) Jordan plays these little games with the lawn man because they both like to get naked outside and fool around in the grass. Pretty soon she is stroking his shaft with her feet and he is taking the ped pounding like the good footboy he is. It's a win-win situation because he wants to cum on the boss lady's feet and she wants him to show her all the cum he has built up just for her. Who would have thought that landscaping could be so dirty?
More Feets »
Raven's your average teen who likes to talk on the phone, text and go to the mall to find cute boys to hookup with. But she doesn't want to go all the way, yet. So when the cute guy she met at the food court keeps checking out her feet and then takes her number, she hopes he calls her for some good times. Our food court guy must know a good thing when he sees it, cause he calls her and asks to drop in at her house. And it's no surprise to her that when this guy comes over, he wants to rub her feet. That's when she tells him to take his pants off. You see Raven is good with her feet. How good? Good enough to stroke the cum out of this stiff one while rubbing on her juicy, pink pussy until she cums. And then she asks him to coat her teen tootsies with his jizz and plays with it. Smart girl...not a drop of cum goes to waste.
More Feets »