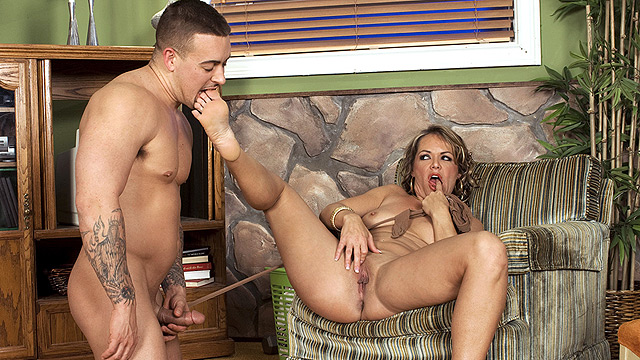 "You fucking disgusting deviant. You fucking piece of shit! What are you doing sniffing my pantyhose?" screams Kelly Leigh when she catches the cable guy in her laundry, with her dirty pantyhose held to his nose in one hand and his stiff dick in the other.
More Feets »
"You were dreaming about me, weren't you?" asks Caroline, while towering over her lover, who has been watching porn. "Even with that dirty movie on, you were dreaming about me." And then she starts rubbing her satin pumps all over the obvious boner in his pants. The top of her nude, fishnet stockings firmly grip her milk thighs as she slides the soles of her feet up and down on his hardness. Oh, so dexterous with her feet, Caroline undoes his belt buckle with her dagger-like high heels and then it's on to a round of foot play where she strips down to her bare feet and spits all over his hard dick to get it slick for fucking. Caroline loves to pleasure men with her peds, and it's not long before her feet are soles-up and she is demanding that this cock spew it's stickiness for her. Once cum has splattered all over her, Caroline plays with it. What good would a healthy amount of tribute be if she couldn't play with it until it was all over her toes and in-between them, too?
More Feets »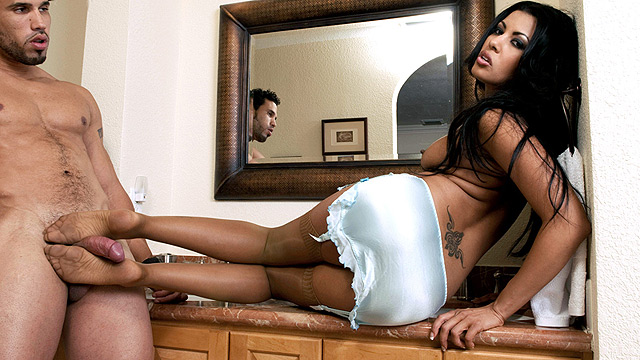 When Mr. Robbins catches his maid, Giselle, sifting through his wife's jewelry and trying on expensive pieces, he fires her. But this nosey maid isn't going anywhere. In fact, she tells him that he is going to give her a raise. And what's the reason for her impertinence? She knows his dirty, little secret. You see, Mr. Robbins likes to wear women's shoes and peruse kinky foot porn. She lets him know that he is going to suck her feet and give her more money. And like the dirty footboy he is, he complies. She makes him suck her feet and jack off for her. Then she towers over him while he lies on the floor and works his cock while she tells him what a dirty pig he is. And when she is ready, she demands that he cum on her soles. This is one maid that doesn't take any orders!
More Feets »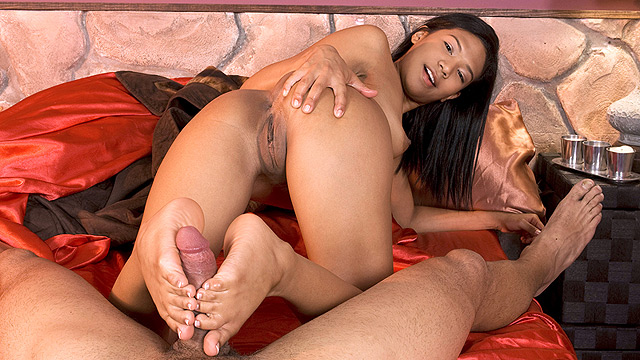 Emy's boyfriend is playing with her feet, and she likes the idea of him getting harder and harder while he fondles her feet. And when he gets really hard, she grips his meat and begins her long and slow strokes, even trampling on his balls until she just can't help but slide one, long finger into her snatch while she works his shaft. Faster and faster she works her foot pussy on him until she, too, is writhing with anticipation of the load to come. And boy he sure does coat her! So much cum erupts out of his cock that she continues playing with her pussy while she rubs all that tribute around in her peds. She sure does go from sleeping to sliding her arches over his erect shaft pretty quick.
More Feets »
Get 2 FeetSites for the price of 1!
FREE ACCESS TO legsex.com