Popular Foot Jobs (Page 4)
"Do you like my feet with all this water on them?" asks Jenna in her tiny bikini while perched at the edge of the hot tub, rubbing her horny feet and pouring hot water on them. The truth is that both Jenna and you know that you love her feet with all those water beads pouring off of them. Reminds you of her feet covered in your cum, don't they? You have imagined her tootsies coated and dripping with your seed, haven't you? Well, there is nothing like making your fantasy into reality. Pound her slick and dripping feet. Slide them up and down on your shaft and squeeze them together while you fuck them. You already knew that Jenna loved to jerk cock with her mouth and hands, but when she does it with her feet, she milks your sac dry!
More Feets »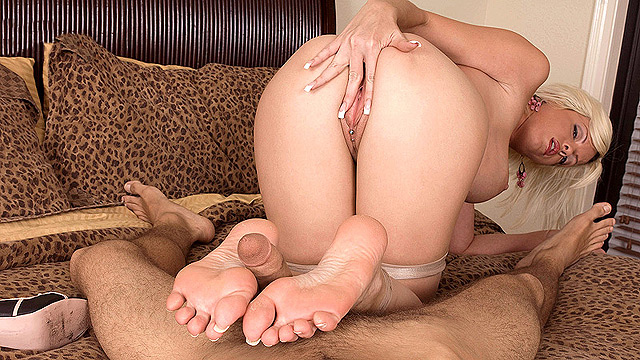 "Hey baby! I have a surprise for you for our anniversary," says Jordan. "I know that you like to be dominant, but today, I thought it would be hot if we tried something else. Today I am going to foot fuck you." That's when Jordan asks her boy toy to take her shoe off and smell it. "You like that stink?" she asks playfully. He must because his cock gets nice and hard when he sees her nylon-covered toes. That's when Jordan strips down to just her stockings and starts her slutty ministrations on his hard-on. It isn't long before she is rubbing him down and cheering for him to cum. And when he does, Jordan is so excited at her foot fucking prowess, that she giggles like a school girl and marvels at all of the cum pouring out of the cock between her feet. She might have surprised her boyfriend with a foot job, but the amount of cum that he gives her surprises her right back!
More Feets »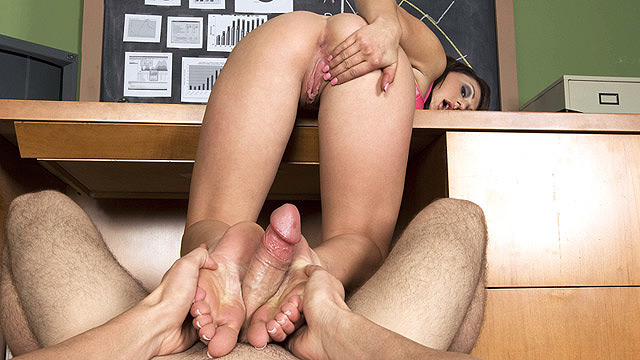 Chloe is an overworked and underpaid executive who spends 14-hours days in the office in mile-high stilettos. Her feet get so tired. Who could blame her for taking her shoes off and rubbing her tired tootsies for a while? But all that friction on her soles and between her toes makes her so horny that when the I.T. guy comes in to fix her computer and shows some interest in her legs, she lets him have his way with her. He slips his meat in-between her arches and slams her for all she is worth. And all that pent-up frustration makes Chloe extra horny. She asks him to slap his hardness all over her soles because the noise excites her. What excites her even more is when he splatters his goo all over her heels and rubs it in. Nothing like a little bit of cum to relive stress.
More Feets »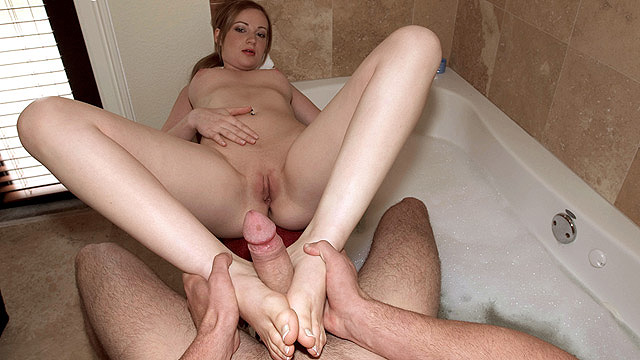 Watching Christine lather up and shave her long, pale legs is enough to drive any man wild, but especially a man who likes soapy and sudsy foot jobs. All that creamy, white shaving cream would certainly feel good sliding up and down your cock, wouldn't it? And because Christine is a foot and leg slut, and she likes feet boys just like you, she will let you shave her legs and rub her tootsies, too. It turns her on so much that she has to rub her greedy, little cunt and demand that you fuck her horny, little feet so she can watch. Nothing like slick and wet peds on your package, sliding up and down and...
More Feets »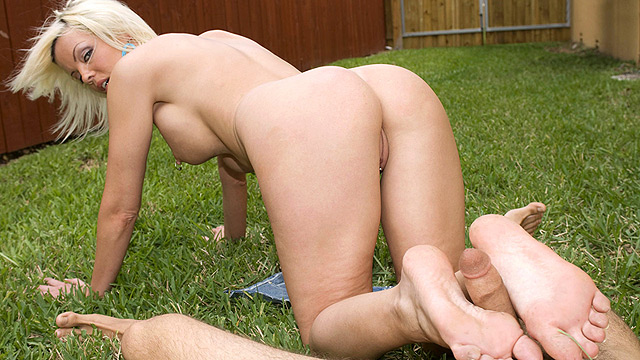 They say that the grass is always greener on the other side. We say the grass is always greener when there is a hot woman walking around on it with her bare feet! Jordan is a housewife who has nothing better to do with her time than to harass the lawn man. (He likes it.) Every time he finishes mowing her lawn, she comes outside barefoot and criticizes the job he has done. Then she demands that he wash her dirty feet, too. (Again, he likes it.) Jordan plays these little games with the lawn man because they both like to get naked outside and fool around in the grass. Pretty soon she is stroking his shaft with her feet and he is taking the ped pounding like the good footboy he is. It's a win-win situation because he wants to cum on the boss lady's feet and she wants him to show her all the cum he has built up just for her. Who would have thought that landscaping could be so dirty?
More Feets »