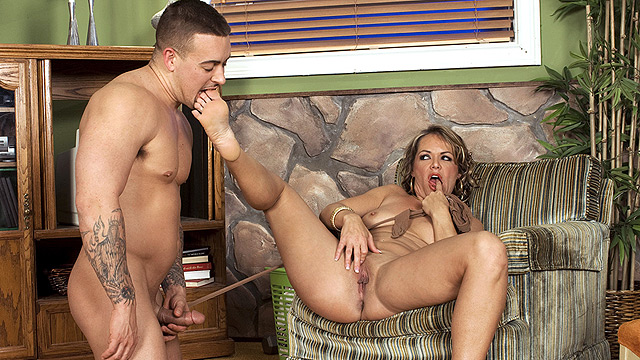 "You fucking disgusting deviant. You fucking piece of shit! What are you doing sniffing my pantyhose?" screams Kelly Leigh when she catches the cable guy in her laundry, with her dirty pantyhose held to his nose in one hand and his stiff dick in the other.
More Feets »
"You were dreaming about me, weren't you?" asks Caroline, while towering over her lover, who has been watching porn. "Even with that dirty movie on, you were dreaming about me." And then she starts rubbing her satin pumps all over the obvious boner in his pants. The top of her nude, fishnet stockings firmly grip her milk thighs as she slides the soles of her feet up and down on his hardness. Oh, so dexterous with her feet, Caroline undoes his belt buckle with her dagger-like high heels and then it's on to a round of foot play where she strips down to her bare feet and spits all over his hard dick to get it slick for fucking. Caroline loves to pleasure men with her peds, and it's not long before her feet are soles-up and she is demanding that this cock spew it's stickiness for her. Once cum has splattered all over her, Caroline plays with it. What good would a healthy amount of tribute be if she couldn't play with it until it was all over her toes and in-between them, too?
More Feets »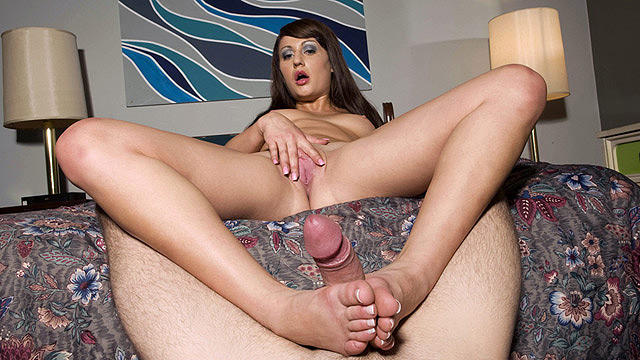 Some guys hire hookers for fucking and for blow jobs. But what about ped-loving guys who crave the taste of women's piggies in their mouths and the feel of lady feet on their dicks? Sometimes they call up a hooker, too, to have their lust sated by a pair of professional feet. And what lovely feet our sex professional, Chloe has. This pixie comes stomping in clad in thigh-high, red vinyl boots and gets straight to business. Once she knows her John wants to fuck her feet, she is all about it, stripping off her boots and wrapping her French-pedicured toes around his cock. She makes her grip extra-tight since he is paying her for his pleasure. She shines his cock up with her stompers until he gives her a huge load she can play with.
More Feets »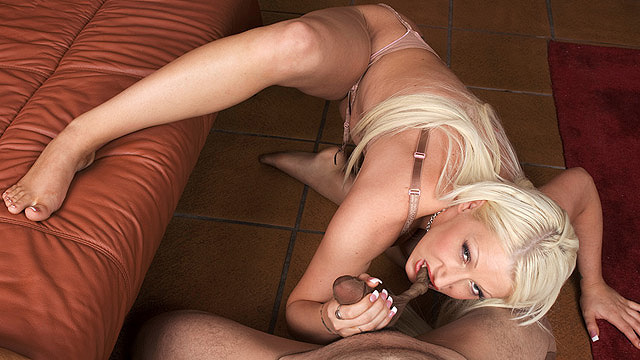 "You just lay there, bitch boy," demands Candy. "Be my footstool while I enjoy this strawberry." You see, Candy is in the mood for a snack while she shows her favorite footboy who the boss is. Clad in nude stockings, Candy mashes berries and lets the juices seep into the mesh over her tootsies while her juices seep out of her pussy. And all the while, her slave watches with his cock imprisoned in the pantyhose she is making him wear. Knowing that his throbbing cock needs some relief, she rubs her nylon-covered feet on his nylon-covered cock and the friction drives him wild. Then she mashes berries all over his cock for lube and gives him a slippery foot fucking. The cock slipping in and out of her arches turns her on so much that she starts sucking her slave's feet, too! And when she is ready, she let's her slave know that it's time to make her, "Pretty feet all dirty," with his cum. And he does. He creams all over her soles and she dips her strawberries in it and enjoys her dessert.
More Feets »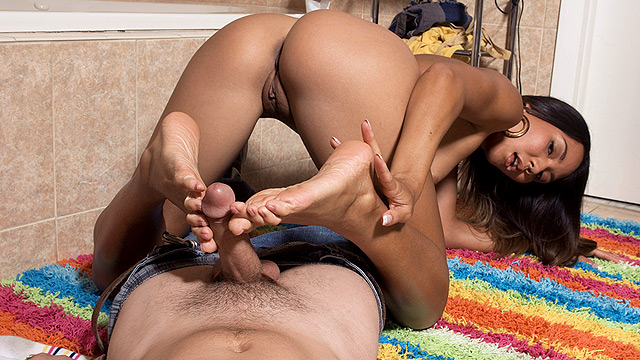 10 toes covered in cute, little cotton socks. Shiny and smooth bare legs that sway and move in front of you. Follow those caramel stems up to a pert, round ass and up further still to a perky pair of titties. Keeani is your tan teen dream cum true. She's in her sockies and waiting for you to show up so she can trample you with her digits and rub her little sockies on your stiff cock. She likes your foot fetish. It excites her, and touching you with her feet makes her slittie drip, too. She has one goal when she wears these socks, and that's to get your cum on her soles so she can play with it. The more cum she gets from your meat, the better, so give her a nice hosing all over her brown tootsies.
More Feets »