Popular Foot Jobs (Page 3)
She's a very kinky girl...the kind you don't take home to mama. In fact, you don't have to take Kirra anywhere. She likes to stay home and do things around the house. What kind of things? She likes to read. She likes to watch a movie on the tube. And to make sundaes on her feet so you can eat off her peds and suck on her toes, one by one. That's right; Kirra will top off her tootsies with ice cream, chocolate and sprinkles so you can shove your horny tongue in all the crevices of her feet and eventually, your cock, too. This girl is hungry for dessert, so once you give her a helping of your cream, she is going to top it off with sprinkles and then lick it off her feet. I cream, you cream, we all scream for cum cream!
More Feets »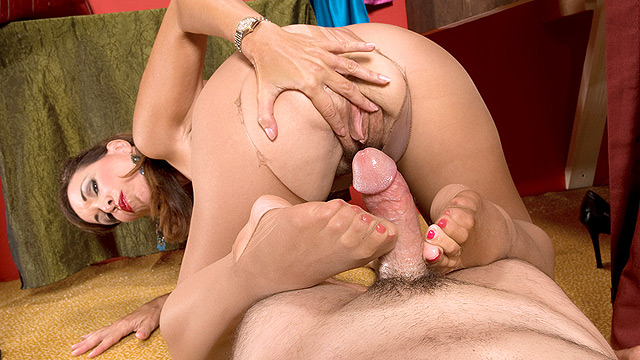 You've seen her type before...the sexy cougar with the amazing body and high, ripe tits. She walks around half-dressed, in revealing dresses that show off her toned gams and tight calves. Well, our peeping pervert sees her all the time, and this time he follows her into the dressing room so he can check her out under the stall and watch her while she gets dress. Unfortunately (or fortunately) for him, he is not as discreet at he thinks, and Gia, our curvy cougar, catches him and tells him that she is going to teach him a lesson. "You're a naughty boy and you are going to be taught a good lesson," she says while she sits down wearing nothing but pantyhose. The lesson involves making him lie on the floor and talking down to him while she tramples and then jacks his pervert dick. They say older women are experienced and that holds true for Gia. She uses her arches on this guy's cock and then squeezes his nuts with her heels until he cums. And his massive load all over her toes and his torso is a testament to her skills.
More Feets »
Angelica needs more professional photos for her portfolio so she heads to a local photographer who says he will snap shots of her. But when she gets there, he wants her to get naked while he watches. She really needs the photos and the photographer seems harmless, so she strips. That's when she realizes that he has been checking her feet out and wants a little bit of a rubdown. "You want to be the first foot fuck of my entire life?" she asks him while playing footsie with his cock. Of course he does. Angelica may be new to foot fucking, but she milks his dick with ease and gets the huge load she has been waiting for. "Oh, that's the first time I've ever had cum all over my feet," she says while she rubs her peds together. And you can bet that it won't be the last.
More Feets »
"I knew you would be here sooner or later," says Jennifer while she uses an emery board on her toenails. You see, every time she gives herself a pedicure, her ped pervert of a boyfriend shows up to help polish her feet with his cum. He calls it painting her pretty feet with his sauce. There is nothing that he loves more than watching her wrap her mocha peds around his stiff ,white dick while he watches and talks dirty to her. "Does this satisfy your foot fetish?" she asks him while he humps her little piggies. And all though he doesn't answer her, his huge load on her soles is proof that he does.
More Feets »
Some guys go to the club to check out girls while they shake their ass and titties on the dance floor. But not foot lovers. They hit the club to see which girl is dancing the most because she is the one who probably has the sweatiest feet that need a massage. That's why when our guy spots Nikki; he knows that this mocha-skinned hip-hop queen needs a good foot rubdown. He unlaces her stinky high tops and creams up her peds for a rubdown in the back of the club. His rough hands on her sensitive soles make Nikki lose all her inhibitions and soon she is naked and sprawled out on the dirty floor with her feet in the air for him to rub. Once she is naked, it is not long before our foot-loving hero is naked, too, and his cock is ready for some rubbing and tugging and to spew a hot load all over Nikki's soles.
More Feets »