Popular Foot Jobs (Page 2)
Misty is lying out by the pool when she notices a man in the bushes watching her as she washes her bare feet. She recognizes him as her neighbor and then she realizes that this pervert is touching his cock to her. Instead of being mad at him, she is kind of turned on by his boldness. In fact, she plays coy about foot play, but she is secretly getting off on his ministrations to her toes...especially when he slides his wet fingers between her digits and stretches them wide. She imagines him fingering her pussy while he fingers her toes. When he asks if she will make his dirty fantasy come true by having some foot sex with him in broad daylight at the community pool, she agrees. These two go at it like rabbits out in the open until he busts his load on her outstretched feet right by the water.
More Feets »
Max and Mac are business partners who are working on a merger together so they stay up late banging away on their laptops. Of course, the tension of a looming deadline just makes Max horny so she has to find some sort of relief, and that means with your dick between her arches! Watch as this brace-faced Asian strokes a hard cock from boner to busting in a slow and nasty foot job with lots of oil. She starts off by trampling and squeezing it between her feet and then she gives it nice and slow strokes until it gets fully hard. Then it's nothing but nasty talk as she encourages her foot fucker to shove his dick through her foot pussy over and over. (She loves to watch it penetrate!) And when it's time for cum, she wants lots of it, so you'd better stroke fast and furiously until you splatter your sauce everywhere. Don't worry, Max will clean it up with her mouth!
More Feets »
"You were dreaming about me, weren't you?" asks Caroline, while towering over her lover, who has been watching porn. "Even with that dirty movie on, you were dreaming about me." And then she starts rubbing her satin pumps all over the obvious boner in his pants. The top of her nude, fishnet stockings firmly grip her milk thighs as she slides the soles of her feet up and down on his hardness. Oh, so dexterous with her feet, Caroline undoes his belt buckle with her dagger-like high heels and then it's on to a round of foot play where she strips down to her bare feet and spits all over his hard dick to get it slick for fucking. Caroline loves to pleasure men with her peds, and it's not long before her feet are soles-up and she is demanding that this cock spew it's stickiness for her. Once cum has splattered all over her, Caroline plays with it. What good would a healthy amount of tribute be if she couldn't play with it until it was all over her toes and in-between them, too?
More Feets »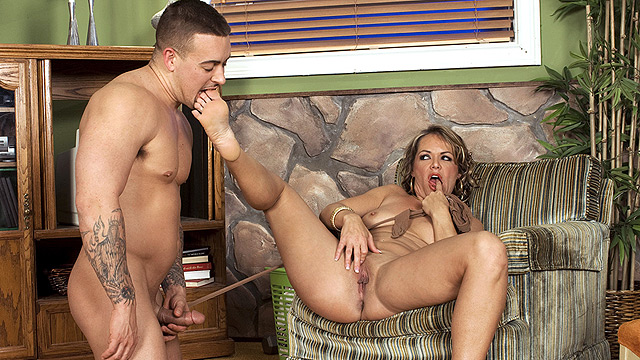 "You fucking disgusting deviant. You fucking piece of shit! What are you doing sniffing my pantyhose?" screams Kelly Leigh when she catches the cable guy in her laundry, with her dirty pantyhose held to his nose in one hand and his stiff dick in the other.
More Feets »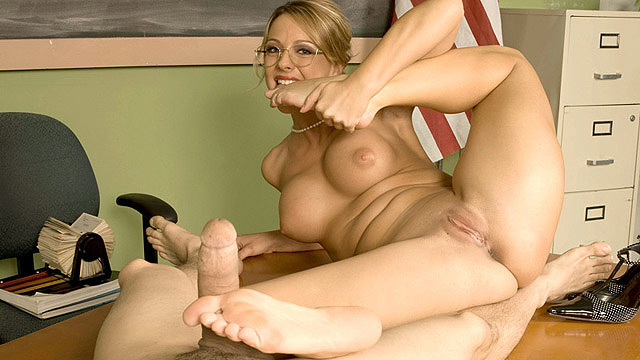 School is now the place for harder learning because class is in session and Miss Beach is your teacher. And who could concentrate when all she does is put her feet up on her desk and fiddle with her hose? Her students are all failing...especially the ones with raging hard-ons for her frisky feet. But that is quite all right because she is willing to stay after class and work with them until they get everything right. Even if that means that she has to get naked and fuck them with her naked feet, right on top of her desk. Some educators are hands-on with their students, but not Miss Beach. She uses her feet to better their young, horny minds...and cocks. And when Miss Beach teaches you a lesson, it is one that you will never forget.
More Feets »