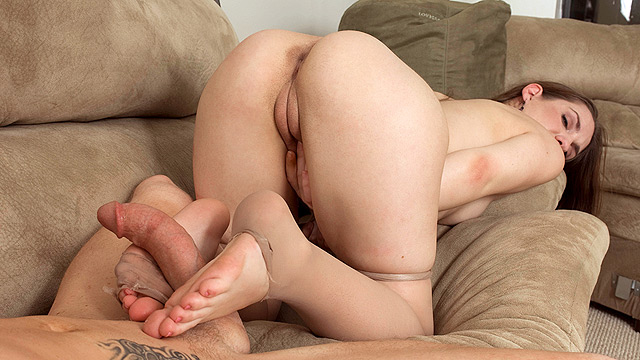 Misty used to be a foot prude until her perverted neighbor turned her out to some foot love. So when she is getting dressed and tears a hole in her pantyhose, she looks over to her boyfriend and wonders if he would be game for some foot sex. She starts to take her pantyhose off, but her boyfriend tells her to wait a second and come over to him. That's when he confesses that he wants to fuck her feet with those torn pantyhose on. She is a little skeptical, but once she sees how hard it makes his dick and just how fucking kinky foot fucking can be, she is all for it. Watch as she lets her boyfriend shred her hose and slide his cock inside of them and against her warm soles for some satisfaction. Misty works that dick with her tootsies and makes him cum like a champion. When it's all said and done and her feet are dripping with tribute, Misty is a bonerfide foot slut and her boyfriend 's ped lust is no longer undercover.
More Feets »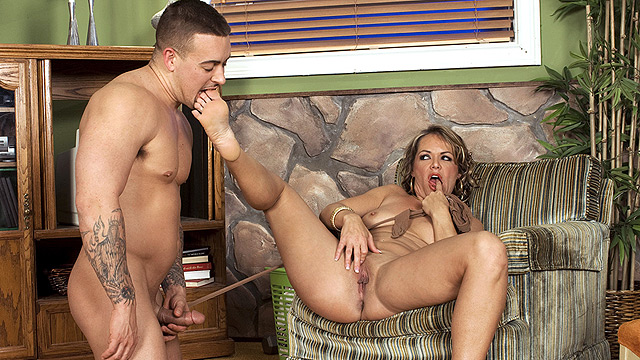 "You fucking disgusting deviant. You fucking piece of shit! What are you doing sniffing my pantyhose?" screams Kelly Leigh when she catches the cable guy in her laundry, with her dirty pantyhose held to his nose in one hand and his stiff dick in the other.
More Feets »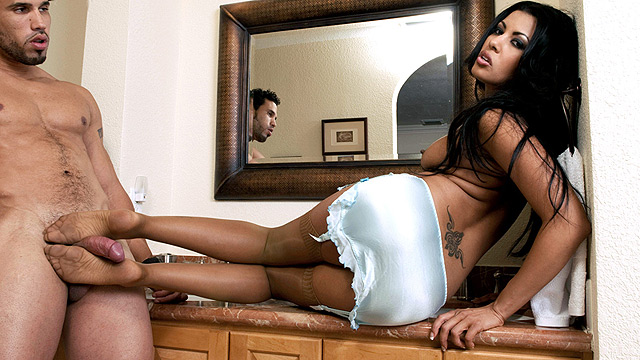 When Mr. Robbins catches his maid, Giselle, sifting through his wife's jewelry and trying on expensive pieces, he fires her. But this nosey maid isn't going anywhere. In fact, she tells him that he is going to give her a raise. And what's the reason for her impertinence? She knows his dirty, little secret. You see, Mr. Robbins likes to wear women's shoes and peruse kinky foot porn. She lets him know that he is going to suck her feet and give her more money. And like the dirty footboy he is, he complies. She makes him suck her feet and jack off for her. Then she towers over him while he lies on the floor and works his cock while she tells him what a dirty pig he is. And when she is ready, she demands that he cum on her soles. This is one maid that doesn't take any orders!
More Feets »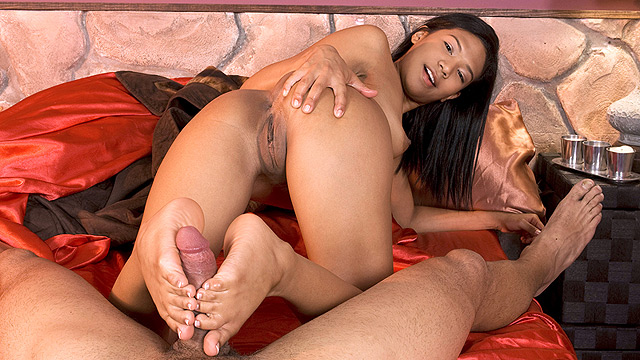 Emy's boyfriend is playing with her feet, and she likes the idea of him getting harder and harder while he fondles her feet. And when he gets really hard, she grips his meat and begins her long and slow strokes, even trampling on his balls until she just can't help but slide one, long finger into her snatch while she works his shaft. Faster and faster she works her foot pussy on him until she, too, is writhing with anticipation of the load to come. And boy he sure does coat her! So much cum erupts out of his cock that she continues playing with her pussy while she rubs all that tribute around in her peds. She sure does go from sleeping to sliding her arches over his erect shaft pretty quick.
More Feets »
Get 2 FeetSites for the price of 1!
FREE ACCESS TO legsex.com