She's a very kinky girl...the kind you don't take home to mama. In fact, you don't have to take Kirra anywhere. She likes to stay home and do things around the house. What kind of things? She likes to read. She likes to watch a movie on the tube. And to make sundaes on her feet so you can eat off her peds and suck on her toes, one by one. That's right; Kirra will top off her tootsies with ice cream, chocolate and sprinkles so you can shove your horny tongue in all the crevices of her feet and eventually, your cock, too. This girl is hungry for dessert, so once you give her a helping of your cream, she is going to top it off with sprinkles and then lick it off her feet. I cream, you cream, we all scream for cum cream!
Some guys go to the club to check out girls while they shake their ass and titties on the dance floor. But not foot lovers. They hit the club to see which girl is dancing the most because she is the one who probably has the sweatiest feet that need a massage. That's why when our guy spots Nikki; he knows that this mocha-skinned hip-hop queen needs a good foot rubdown. He unlaces her stinky high tops and creams up her peds for a rubdown in the back of the club. His rough hands on her sensitive soles make Nikki lose all her inhibitions and soon she is naked and sprawled out on the dirty floor with her feet in the air for him to rub. Once she is naked, it is not long before our foot-loving hero is naked, too, and his cock is ready for some rubbing and tugging and to spew a hot load all over Nikki's soles.
Top-Rated Foot Jobs
Jayda is a college student who needs to do odd jobs to make money for tuition. Today she is raking up Mr. Mack's yard for some quick cash, but she's a bit miffed that her feet are filthy and gross. Or is she? You see, she knows Mr. Mack likes to see her little feet covered in mud and muck. It makes his big dick nice and hard so that she can give him some dirty talk and dirty foot fucking, too. Watch as he washes and plays with her dirty peds and then slams his dong in between them. He coats this college coed's peds with his spunk and then pays her for a job well done.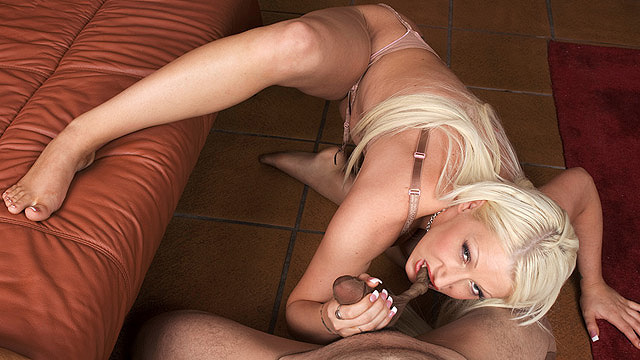 "You just lay there, bitch boy," demands Candy. "Be my footstool while I enjoy this strawberry." You see, Candy is in the mood for a snack while she shows her favorite footboy who the boss is. Clad in nude stockings, Candy mashes berries and lets the juices seep into the mesh over her tootsies while her juices seep out of her pussy. And all the while, her slave watches with his cock imprisoned in the pantyhose she is making him wear. Knowing that his throbbing cock needs some relief, she rubs her nylon-covered feet on his nylon-covered cock and the friction drives him wild. Then she mashes berries all over his cock for lube and gives him a slippery foot fucking. The cock slipping in and out of her arches turns her on so much that she starts sucking her slave's feet, too! And when she is ready, she let's her slave know that it's time to make her, "Pretty feet all dirty," with his cum. And he does. He creams all over her soles and she dips her strawberries in it and enjoys her dessert.
Get 2 Feet Sites for the price of 1!
FREE ACCESS TO legsex.com