Latest Foot Jobs (Page 5)
Women in high heels are prone to accidents, and Puma finds out the hard way when she twists her ankle while going up the stairs to her hotel room. Luckily for her, a Good Samaritan sees her in distress and helps her by taking her to his hotel room and performing first aide on her injury. He shows her some exercises she can do to make her feet feel better. Of course, one of those exercises includes putting her feet around a hard dick. Luckily for her, handling her feet has made our hero's junk nice and stiff for Puma's soles. These two use spit and lotion and make his dick and her feet slippery for a nasty foot job. Puma is fascinated by how good and freaky it feels to bang a cock with her feet and somehow forgets she is even injured. It's not long before she makes her savior cum, proof that sometimes you can heal an injury with just T.L.C-Tender Loving Cum. Once her feet are soaked, he slides her shoes back on and sends her to the mall to do some shopping...while her feet squish around in her shoes full of cum!
More Feets »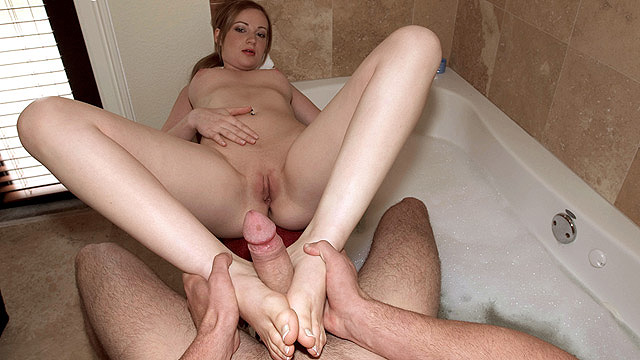 Watching Christine lather up and shave her long, pale legs is enough to drive any man wild, but especially a man who likes soapy and sudsy foot jobs. All that creamy, white shaving cream would certainly feel good sliding up and down your cock, wouldn't it? And because Christine is a foot and leg slut, and she likes feet boys just like you, she will let you shave her legs and rub her tootsies, too. It turns her on so much that she has to rub her greedy, little cunt and demand that you fuck her horny, little feet so she can watch. Nothing like slick and wet peds on your package, sliding up and down and...
More Feets »