Popular Foot Jobs (Page 5)
Kalee has sticky fingers and is constantly stealing shoes. She can't help it. She is a shoe slut and the colors and textures of all the footwear in the mall excite her. She steals the shoes she likes and then goes home and wears them while she touches her pussy. But the new loss prevention officer has her number and hauls her in for some questioning. "We've been watching you for months!" he tells her while laying out the shoes she has stolen in front of her. Not wanting to get busted and be hauled off to jail, Kalee strikes a deal with this cop. She promises him the foot fucking of his life if he lets her go. "I'll show you what I can do with these feet," she tells him. And he agrees! Why do you think he works loss prevention for the shoe department, anyway? Our cop is a foot freak himself! He might not throw the book at this little shoplifter, but he sure does spill his load all over her!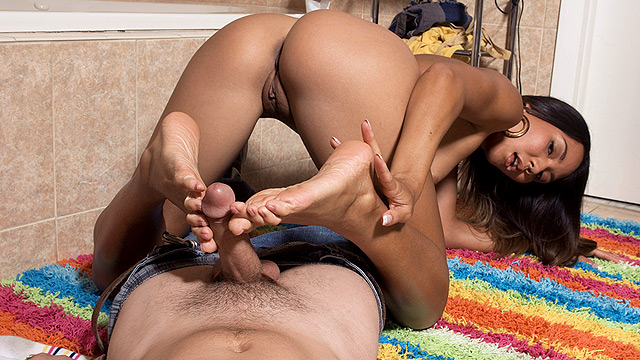 10 toes covered in cute, little cotton socks. Shiny and smooth bare legs that sway and move in front of you. Follow those caramel stems up to a pert, round ass and up further still to a perky pair of titties. Keeani is your tan teen dream cum true. She's in her sockies and waiting for you to show up so she can trample you with her digits and rub her little sockies on your stiff cock. She likes your foot fetish. It excites her, and touching you with her feet makes her slittie drip, too. She has one goal when she wears these socks, and that's to get your cum on her soles so she can play with it. The more cum she gets from your meat, the better, so give her a nice hosing all over her brown tootsies.