Popular Foot Jobs (Page 4)
"Do you like my feet with all this water on them?" asks Jenna in her tiny bikini while perched at the edge of the hot tub, rubbing her horny feet and pouring hot water on them. The truth is that both Jenna and you know that you love her feet with all those water beads pouring off of them. Reminds you of her feet covered in your cum, don't they? You have imagined her tootsies coated and dripping with your seed, haven't you? Well, there is nothing like making your fantasy into reality. Pound her slick and dripping feet. Slide them up and down on your shaft and squeeze them together while you fuck them. You already knew that Jenna loved to jerk cock with her mouth and hands, but when she does it with her feet, she milks your sac dry!
More Feets »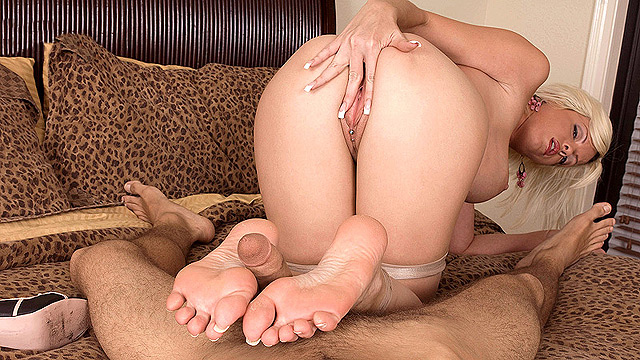 "Hey baby! I have a surprise for you for our anniversary," says Jordan. "I know that you like to be dominant, but today, I thought it would be hot if we tried something else. Today I am going to foot fuck you." That's when Jordan asks her boy toy to take her shoe off and smell it. "You like that stink?" she asks playfully. He must because his cock gets nice and hard when he sees her nylon-covered toes. That's when Jordan strips down to just her stockings and starts her slutty ministrations on his hard-on. It isn't long before she is rubbing him down and cheering for him to cum. And when he does, Jordan is so excited at her foot fucking prowess, that she giggles like a school girl and marvels at all of the cum pouring out of the cock between her feet. She might have surprised her boyfriend with a foot job, but the amount of cum that he gives her surprises her right back!
More Feets »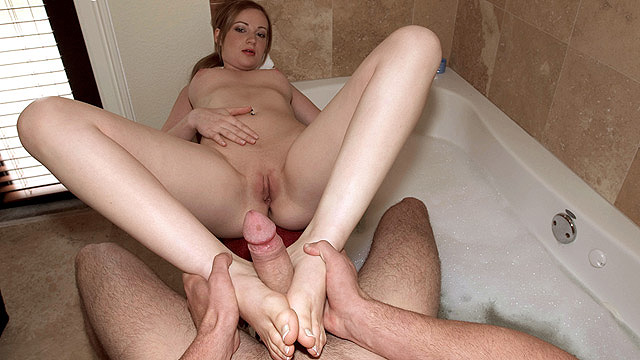 Watching Christine lather up and shave her long, pale legs is enough to drive any man wild, but especially a man who likes soapy and sudsy foot jobs. All that creamy, white shaving cream would certainly feel good sliding up and down your cock, wouldn't it? And because Christine is a foot and leg slut, and she likes feet boys just like you, she will let you shave her legs and rub her tootsies, too. It turns her on so much that she has to rub her greedy, little cunt and demand that you fuck her horny, little feet so she can watch. Nothing like slick and wet peds on your package, sliding up and down and...
More Feets »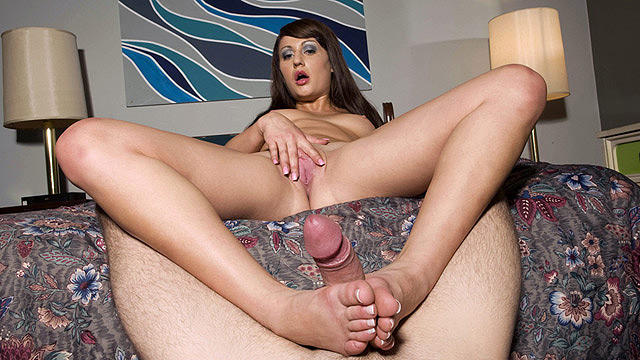 Some guys hire hookers for fucking and for blow jobs. But what about ped-loving guys who crave the taste of women's piggies in their mouths and the feel of lady feet on their dicks? Sometimes they call up a hooker, too, to have their lust sated by a pair of professional feet. And what lovely feet our sex professional, Chloe has. This pixie comes stomping in clad in thigh-high, red vinyl boots and gets straight to business. Once she knows her John wants to fuck her feet, she is all about it, stripping off her boots and wrapping her French-pedicured toes around his cock. She makes her grip extra-tight since he is paying her for his pleasure. She shines his cock up with her stompers until he gives her a huge load she can play with.
More Feets »
When you crave feet, getting your hands on them is a must. That's why having a girlfriend like Sara, who likes to have her feet fondled and washed, is important. When she knows that her boyfriend is coming over, she starts her ritual of bathing and rubbing suds all over her feet. And when he comes over and catches her mid-footbath, she lets him wash her feet for her and scrub them with a soft-bristled brush until they are smooth and supple for him to slide his dick between. She puts her damp digits on his dick and fingers herself so he can see how much pleasure she gets when she gets to foot fondle his goods. She gets his dick nice and hard and then flips over to let him have a look at her bulbous, creamy, white ass and wet and thick pussy. She lets him fondle her slutty, puckered asshole and finger her cunt while she foot fucks him. Then she is on her back so she can grip his cock with her arches and finger fuck herself. And Sara pumps all the hot cum out of this dick with her peds until it is shooting sauce everywhere.
More Feets »