Popular Foot Jobs (Page 4)
Angelica needs more professional photos for her portfolio so she heads to a local photographer who says he will snap shots of her. But when she gets there, he wants her to get naked while he watches. She really needs the photos and the photographer seems harmless, so she strips. That's when she realizes that he has been checking her feet out and wants a little bit of a rubdown. "You want to be the first foot fuck of my entire life?" she asks him while playing footsie with his cock. Of course he does. Angelica may be new to foot fucking, but she milks his dick with ease and gets the huge load she has been waiting for. "Oh, that's the first time I've ever had cum all over my feet," she says while she rubs her peds together. And you can bet that it won't be the last.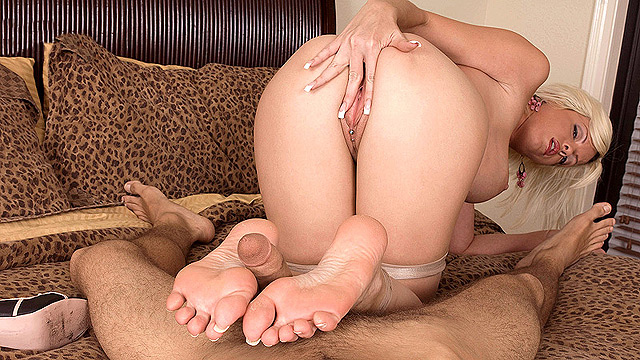 "Hey baby! I have a surprise for you for our anniversary," says Jordan. "I know that you like to be dominant, but today, I thought it would be hot if we tried something else. Today I am going to foot fuck you." That's when Jordan asks her boy toy to take her shoe off and smell it. "You like that stink?" she asks playfully. He must because his cock gets nice and hard when he sees her nylon-covered toes. That's when Jordan strips down to just her stockings and starts her slutty ministrations on his hard-on. It isn't long before she is rubbing him down and cheering for him to cum. And when he does, Jordan is so excited at her foot fucking prowess, that she giggles like a school girl and marvels at all of the cum pouring out of the cock between her feet. She might have surprised her boyfriend with a foot job, but the amount of cum that he gives her surprises her right back!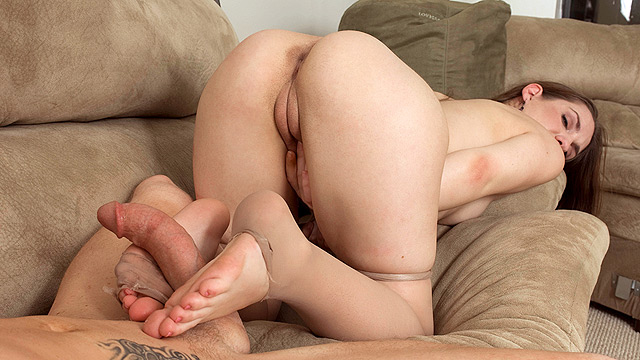 Misty used to be a foot prude until her perverted neighbor turned her out to some foot love. So when she is getting dressed and tears a hole in her pantyhose, she looks over to her boyfriend and wonders if he would be game for some foot sex. She starts to take her pantyhose off, but her boyfriend tells her to wait a second and come over to him. That's when he confesses that he wants to fuck her feet with those torn pantyhose on. She is a little skeptical, but once she sees how hard it makes his dick and just how fucking kinky foot fucking can be, she is all for it. Watch as she lets her boyfriend shred her hose and slide his cock inside of them and against her warm soles for some satisfaction. Misty works that dick with her tootsies and makes him cum like a champion. When it's all said and done and her feet are dripping with tribute, Misty is a bonerfide foot slut and her boyfriend 's ped lust is no longer undercover.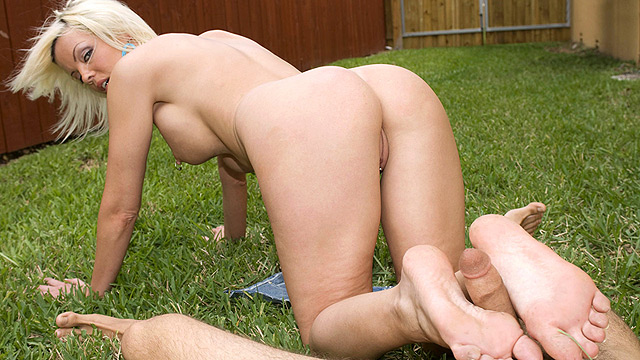 They say that the grass is always greener on the other side. We say the grass is always greener when there is a hot woman walking around on it with her bare feet! Jordan is a housewife who has nothing better to do with her time than to harass the lawn man. (He likes it.) Every time he finishes mowing her lawn, she comes outside barefoot and criticizes the job he has done. Then she demands that he wash her dirty feet, too. (Again, he likes it.) Jordan plays these little games with the lawn man because they both like to get naked outside and fool around in the grass. Pretty soon she is stroking his shaft with her feet and he is taking the ped pounding like the good footboy he is. It's a win-win situation because he wants to cum on the boss lady's feet and she wants him to show her all the cum he has built up just for her. Who would have thought that landscaping could be so dirty?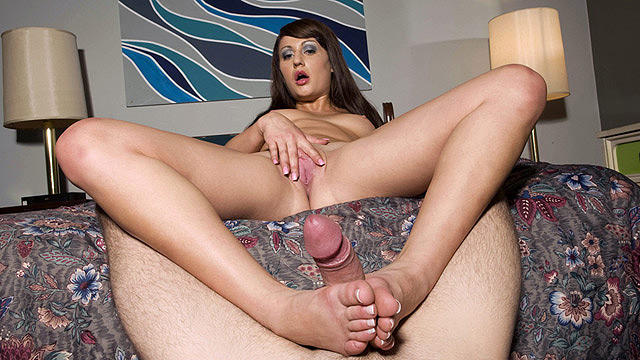 Some guys hire hookers for fucking and for blow jobs. But what about ped-loving guys who crave the taste of women's piggies in their mouths and the feel of lady feet on their dicks? Sometimes they call up a hooker, too, to have their lust sated by a pair of professional feet. And what lovely feet our sex professional, Chloe has. This pixie comes stomping in clad in thigh-high, red vinyl boots and gets straight to business. Once she knows her John wants to fuck her feet, she is all about it, stripping off her boots and wrapping her French-pedicured toes around his cock. She makes her grip extra-tight since he is paying her for his pleasure. She shines his cock up with her stompers until he gives her a huge load she can play with.