Popular Foot Jobs (Page 3)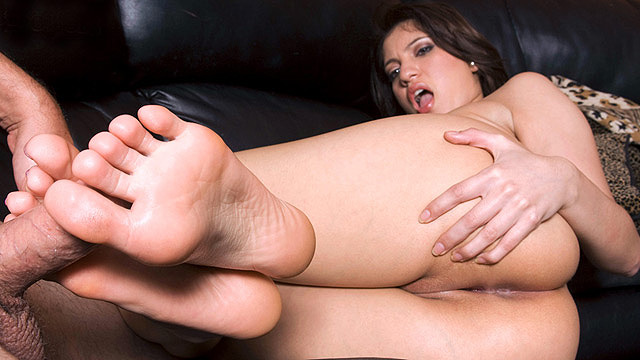 "Sometimes, when I play with myself, I like to rub my feet on the carpet. Is that weird?" asks Dominique, a long-legged Latina. Of course it isn't. We encourage all sorts of foot rubbing and touching and even fucking. That's why we set Dominique up with her first foot fuck of all time. She has her feet lotioned, rubbed and then thoroughly fucked by a helpful footboy who wants nothing more than to cream her virgin peds. Of course her pleasure is important, which is why he encourages her to rub on her clit while he pounds her peds. Watch Dominique's caramel cunt ooze while her soles are slick and sodden with lust. For a foot virgin, this little lady sure can give a frenzied foot job!
More Feets »
Angelica needs more professional photos for her portfolio so she heads to a local photographer who says he will snap shots of her. But when she gets there, he wants her to get naked while he watches. She really needs the photos and the photographer seems harmless, so she strips. That's when she realizes that he has been checking her feet out and wants a little bit of a rubdown. "You want to be the first foot fuck of my entire life?" she asks him while playing footsie with his cock. Of course he does. Angelica may be new to foot fucking, but she milks his dick with ease and gets the huge load she has been waiting for. "Oh, that's the first time I've ever had cum all over my feet," she says while she rubs her peds together. And you can bet that it won't be the last.
More Feets »
"I'm lotioning up my feet and my legs and I am getting them ready for this guy who is coming out here," says Jordan while she rubs down her long legs in the sunshine. "I can't wait to touch his cock with my feet! I will give you a sneak-peek of them, but just for a second," she says and then takes off her heel. "And look at this! I have my feathers here so I can make him squirm and tickle him." Jordan likes to tease her victims, so she lays her boy toy out on the table and blindfolds him. Then she undoes his belt and starts to rub his cock with her high heels. By the time she pulls his pants down, his cock is rock hard. She teases him with feathers, her shoes and finally, she gives him what he wants...sex with her feet. She claims that her feet like his cock, but judging by the amount of sperm he splatters her gams with, it's safe to say that his cock likes her feet, too.
More Feets »
"I knew you would be here sooner or later," says Jennifer while she uses an emery board on her toenails. You see, every time she gives herself a pedicure, her ped pervert of a boyfriend shows up to help polish her feet with his cum. He calls it painting her pretty feet with his sauce. There is nothing that he loves more than watching her wrap her mocha peds around his stiff ,white dick while he watches and talks dirty to her. "Does this satisfy your foot fetish?" she asks him while he humps her little piggies. And all though he doesn't answer her, his huge load on her soles is proof that he does.
More Feets »
Some guys go to the club to check out girls while they shake their ass and titties on the dance floor. But not foot lovers. They hit the club to see which girl is dancing the most because she is the one who probably has the sweatiest feet that need a massage. That's why when our guy spots Nikki; he knows that this mocha-skinned hip-hop queen needs a good foot rubdown. He unlaces her stinky high tops and creams up her peds for a rubdown in the back of the club. His rough hands on her sensitive soles make Nikki lose all her inhibitions and soon she is naked and sprawled out on the dirty floor with her feet in the air for him to rub. Once she is naked, it is not long before our foot-loving hero is naked, too, and his cock is ready for some rubbing and tugging and to spew a hot load all over Nikki's soles.
More Feets »