Popular Foot Jobs (Page 2)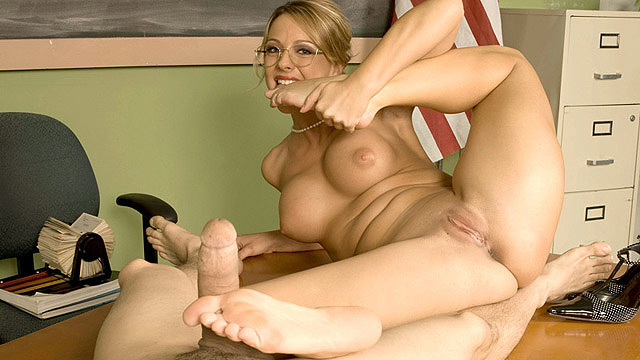 School is now the place for harder learning because class is in session and Miss Beach is your teacher. And who could concentrate when all she does is put her feet up on her desk and fiddle with her hose? Her students are all failing...especially the ones with raging hard-ons for her frisky feet. But that is quite all right because she is willing to stay after class and work with them until they get everything right. Even if that means that she has to get naked and fuck them with her naked feet, right on top of her desk. Some educators are hands-on with their students, but not Miss Beach. She uses her feet to better their young, horny minds...and cocks. And when Miss Beach teaches you a lesson, it is one that you will never forget.
More Feets »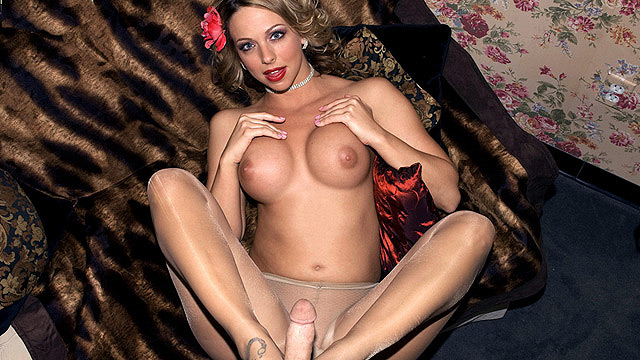 "Are you watching me? Did I say you could watch?" asks blonde bombshell Brianna Beach. "Look at the way you are staring. You know what you are? YOU are a FOOT FREAK!" And there is nothing wrong with that. You see, although she does think that you're a footboy, Brianna wants you to earn the right to fuck her peds. She pushes her thighs together so that her stockings rub and makes the noise that is like a symphony to your cock. And while your cock is twitching, Brianna is dangling her shoes and getting her feet ready to pleasure you by flexing them and making her foot pussy nice and tight. But she doesn't want sticky cum on her stockings, she wants in on her pantyhose, so she gets dressed up to give you the foot job of your life. And Brianna isn't satisfied until her hose are shredded and her soles are covered in your sauce.
More Feets »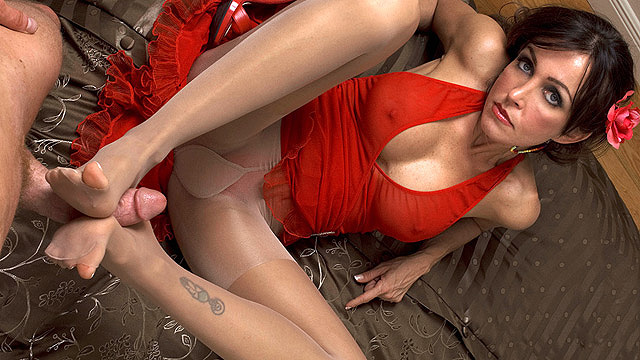 "My new shoes make me feel so sexy," says Christina, a hot 40something in mile-high red stilettos and sheer pantyhose. "I feel like a sexy flamenco dancer and I want to dance for you." And all that dancing and prancing turns her on because before you know it, she is on her back and sliding her feet all over a stiff dick. Nothing like a little bit of cock smacking and rubbing with a horny set of peds to make a foot job extra special. And once her feet are on this meat, Christina's hose get ripped to shreds so that she can get her bare soles all over this hard-on and make it erupt! When her soles are coated from the heels to the tips of her toes, she rubs all of that cum in to show her appreciation.
More Feets »
"Hi Darling. I have all these different stockings and I am going to try them on for you so you can help me pick something out," says Krista as she slides on a pair of shiny, nude stockings. She knows that you like it when she slides silky nylons and stockings over her feet and then over her calves and thighs. She likes to rub her legs together so you can hear the material as she strokes her feet and calves. But she has more pantyhose to try on, and so it's on to the black fishnets . When she puts them on, she rips them so that her toes and her red toenails stick out and tease you. Then she rips the ass out, too, so she can bend over and play with her ass and pussy while your eyes feast on her toes. It isn't long before she has her feet around your cock and she's jerking up and down while your cock gets harder and harder. Then she is slapping your meat with her soles and begging for cum. The question is, how much are you going to give to her?
More Feets »
She's a very kinky girl...the kind you don't take home to mama. In fact, you don't have to take Kirra anywhere. She likes to stay home and do things around the house. What kind of things? She likes to read. She likes to watch a movie on the tube. And to make sundaes on her feet so you can eat off her peds and suck on her toes, one by one. That's right; Kirra will top off her tootsies with ice cream, chocolate and sprinkles so you can shove your horny tongue in all the crevices of her feet and eventually, your cock, too. This girl is hungry for dessert, so once you give her a helping of your cream, she is going to top it off with sprinkles and then lick it off her feet. I cream, you cream, we all scream for cum cream!
More Feets »