Latest Foot Jobs (Page 2)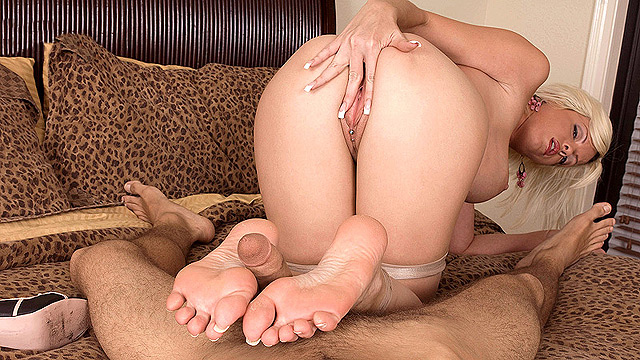 "Hey baby! I have a surprise for you for our anniversary," says Jordan. "I know that you like to be dominant, but today, I thought it would be hot if we tried something else. Today I am going to foot fuck you." That's when Jordan asks her boy toy to take her shoe off and smell it. "You like that stink?" she asks playfully. He must because his cock gets nice and hard when he sees her nylon-covered toes. That's when Jordan strips down to just her stockings and starts her slutty ministrations on his hard-on. It isn't long before she is rubbing him down and cheering for him to cum. And when he does, Jordan is so excited at her foot fucking prowess, that she giggles like a school girl and marvels at all of the cum pouring out of the cock between her feet. She might have surprised her boyfriend with a foot job, but the amount of cum that he gives her surprises her right back!
More Feets »
Morning wood should never go to waste and no one knows that better than Sara, a horny brunette. Sara knows that the best part of waking up is being able to roll over and run her feet all over her boyfriend's stiff one in the morning. And he doesn't mind one bit. She unleashes his raging boner from his boxers and gets to work, sliding her smooth soles along the shaft and caressing his nuts with her toes. She gives him her foot-pussy and then he towers over her while she lays back and lets him hump her arches over and over. When he is ready to go, she offers up her soles to receive his seed and then puts her toes in her mouth to clean off every drop of his cum from her digits. Some people need coffee to get going in the morning; Sara just needs hard dick in between her feet.
More Feets »
When you crave feet, getting your hands on them is a must. That's why having a girlfriend like Sara, who likes to have her feet fondled and washed, is important. When she knows that her boyfriend is coming over, she starts her ritual of bathing and rubbing suds all over her feet. And when he comes over and catches her mid-footbath, she lets him wash her feet for her and scrub them with a soft-bristled brush until they are smooth and supple for him to slide his dick between. She puts her damp digits on his dick and fingers herself so he can see how much pleasure she gets when she gets to foot fondle his goods. She gets his dick nice and hard and then flips over to let him have a look at her bulbous, creamy, white ass and wet and thick pussy. She lets him fondle her slutty, puckered asshole and finger her cunt while she foot fucks him. Then she is on her back so she can grip his cock with her arches and finger fuck herself. And Sara pumps all the hot cum out of this dick with her peds until it is shooting sauce everywhere.
More Feets »
"I knew you would be here sooner or later," says Jennifer while she uses an emery board on her toenails. You see, every time she gives herself a pedicure, her ped pervert of a boyfriend shows up to help polish her feet with his cum. He calls it painting her pretty feet with his sauce. There is nothing that he loves more than watching her wrap her mocha peds around his stiff ,white dick while he watches and talks dirty to her. "Does this satisfy your foot fetish?" she asks him while he humps her little piggies. And all though he doesn't answer her, his huge load on her soles is proof that he does.
More Feets »
She's a very kinky girl...the kind you don't take home to mama. In fact, you don't have to take Kirra anywhere. She likes to stay home and do things around the house. What kind of things? She likes to read. She likes to watch a movie on the tube. And to make sundaes on her feet so you can eat off her peds and suck on her toes, one by one. That's right; Kirra will top off her tootsies with ice cream, chocolate and sprinkles so you can shove your horny tongue in all the crevices of her feet and eventually, your cock, too. This girl is hungry for dessert, so once you give her a helping of your cream, she is going to top it off with sprinkles and then lick it off her feet. I cream, you cream, we all scream for cum cream!
More Feets »