Jayda is a college student who needs to do odd jobs to make money for tuition. Today she is raking up Mr. Mack's yard for some quick cash, but she's a bit miffed that her feet are filthy and gross. Or is she? You see, she knows Mr. Mack likes to see her little feet covered in mud and muck. It makes his big dick nice and hard so that she can give him some dirty talk and dirty foot fucking, too. Watch as he washes and plays with her dirty peds and then slams his dong in between them. He coats this college coed's peds with his spunk and then pays her for a job well done.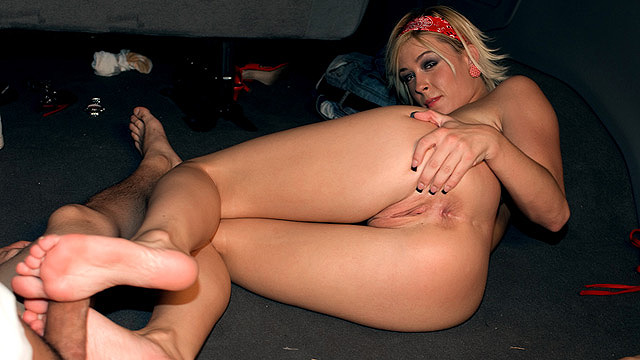 Angel's car just broke down on the side of the road and she sets out in her high heels to get to a phone and a gas station. But the uneven pavement and rocks slow her down and soon, she is barefoot and her feet are filthy. So she starts hitchhiking and finally someone stops and helps her by picking her up. But this stranger is more hopeful than helpful. You see, he spotted Angel's bare peds a mile away and this pervert wants nothing more than to feel them gripping his erection. So he gives her baby wipes for her filthy feet, and when her peds are clean, he invites her into the back of his van to do dirty things with them. Of course Angel agrees. After all, she has to pay him back for the ride somehow.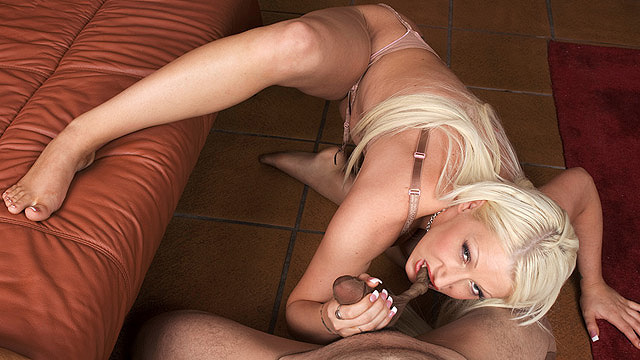 "You just lay there, bitch boy," demands Candy. "Be my footstool while I enjoy this strawberry." You see, Candy is in the mood for a snack while she shows her favorite footboy who the boss is. Clad in nude stockings, Candy mashes berries and lets the juices seep into the mesh over her tootsies while her juices seep out of her pussy. And all the while, her slave watches with his cock imprisoned in the pantyhose she is making him wear. Knowing that his throbbing cock needs some relief, she rubs her nylon-covered feet on his nylon-covered cock and the friction drives him wild. Then she mashes berries all over his cock for lube and gives him a slippery foot fucking. The cock slipping in and out of her arches turns her on so much that she starts sucking her slave's feet, too! And when she is ready, she let's her slave know that it's time to make her, "Pretty feet all dirty," with his cum. And he does. He creams all over her soles and she dips her strawberries in it and enjoys her dessert.
Misty is lying out by the pool when she notices a man in the bushes watching her as she washes her bare feet. She recognizes him as her neighbor and then she realizes that this pervert is touching his cock to her. Instead of being mad at him, she is kind of turned on by his boldness. In fact, she plays coy about foot play, but she is secretly getting off on his ministrations to her toes...especially when he slides his wet fingers between her digits and stretches them wide. She imagines him fingering her pussy while he fingers her toes. When he asks if she will make his dirty fantasy come true by having some foot sex with him in broad daylight at the community pool, she agrees. These two go at it like rabbits out in the open until he busts his load on her outstretched feet right by the water.
Women in high heels are prone to accidents, and Puma finds out the hard way when she twists her ankle while going up the stairs to her hotel room. Luckily for her, a Good Samaritan sees her in distress and helps her by taking her to his hotel room and performing first aide on her injury. He shows her some exercises she can do to make her feet feel better. Of course, one of those exercises includes putting her feet around a hard dick. Luckily for her, handling her feet has made our hero's junk nice and stiff for Puma's soles. These two use spit and lotion and make his dick and her feet slippery for a nasty foot job. Puma is fascinated by how good and freaky it feels to bang a cock with her feet and somehow forgets she is even injured. It's not long before she makes her savior cum, proof that sometimes you can heal an injury with just T.L.C-Tender Loving Cum. Once her feet are soaked, he slides her shoes back on and sends her to the mall to do some shopping...while her feet squish around in her shoes full of cum!