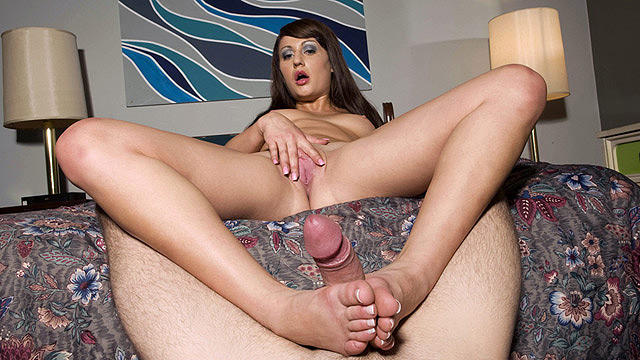 Some guys hire hookers for fucking and for blow jobs. But what about ped-loving guys who crave the taste of women's piggies in their mouths and the feel of lady feet on their dicks? Sometimes they call up a hooker, too, to have their lust sated by a pair of professional feet. And what lovely feet our sex professional, Chloe has. This pixie comes stomping in clad in thigh-high, red vinyl boots and gets straight to business. Once she knows her John wants to fuck her feet, she is all about it, stripping off her boots and wrapping her French-pedicured toes around his cock. She makes her grip extra-tight since he is paying her for his pleasure. She shines his cock up with her stompers until he gives her a huge load she can play with.
More Feets »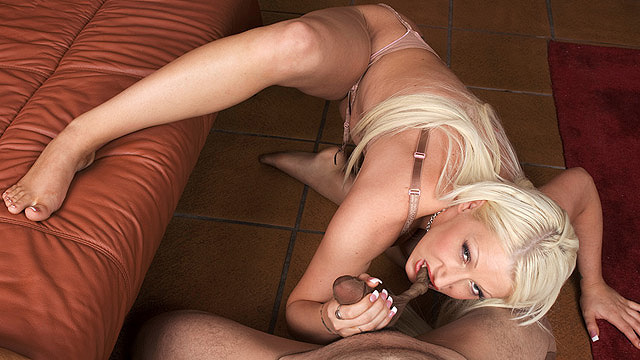 "You just lay there, bitch boy," demands Candy. "Be my footstool while I enjoy this strawberry." You see, Candy is in the mood for a snack while she shows her favorite footboy who the boss is. Clad in nude stockings, Candy mashes berries and lets the juices seep into the mesh over her tootsies while her juices seep out of her pussy. And all the while, her slave watches with his cock imprisoned in the pantyhose she is making him wear. Knowing that his throbbing cock needs some relief, she rubs her nylon-covered feet on his nylon-covered cock and the friction drives him wild. Then she mashes berries all over his cock for lube and gives him a slippery foot fucking. The cock slipping in and out of her arches turns her on so much that she starts sucking her slave's feet, too! And when she is ready, she let's her slave know that it's time to make her, "Pretty feet all dirty," with his cum. And he does. He creams all over her soles and she dips her strawberries in it and enjoys her dessert.
More Feets »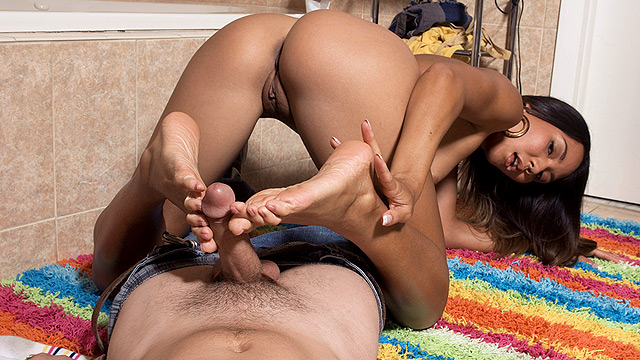 10 toes covered in cute, little cotton socks. Shiny and smooth bare legs that sway and move in front of you. Follow those caramel stems up to a pert, round ass and up further still to a perky pair of titties. Keeani is your tan teen dream cum true. She's in her sockies and waiting for you to show up so she can trample you with her digits and rub her little sockies on your stiff cock. She likes your foot fetish. It excites her, and touching you with her feet makes her slittie drip, too. She has one goal when she wears these socks, and that's to get your cum on her soles so she can play with it. The more cum she gets from your meat, the better, so give her a nice hosing all over her brown tootsies.
More Feets »
Max and Mac are business partners who are working on a merger together so they stay up late banging away on their laptops. Of course, the tension of a looming deadline just makes Max horny so she has to find some sort of relief, and that means with your dick between her arches! Watch as this brace-faced Asian strokes a hard cock from boner to busting in a slow and nasty foot job with lots of oil. She starts off by trampling and squeezing it between her feet and then she gives it nice and slow strokes until it gets fully hard. Then it's nothing but nasty talk as she encourages her foot fucker to shove his dick through her foot pussy over and over. (She loves to watch it penetrate!) And when it's time for cum, she wants lots of it, so you'd better stroke fast and furiously until you splatter your sauce everywhere. Don't worry, Max will clean it up with her mouth!
More Feets »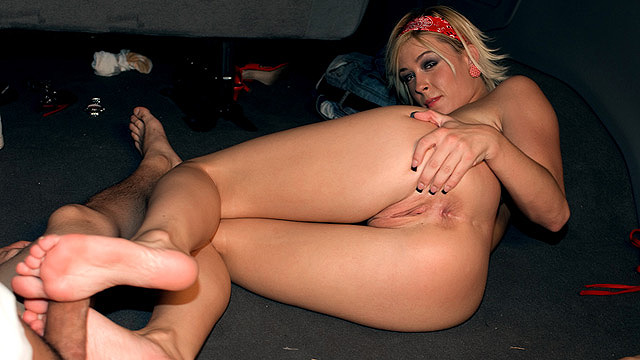 Angel's car just broke down on the side of the road and she sets out in her high heels to get to a phone and a gas station. But the uneven pavement and rocks slow her down and soon, she is barefoot and her feet are filthy. So she starts hitchhiking and finally someone stops and helps her by picking her up. But this stranger is more hopeful than helpful. You see, he spotted Angel's bare peds a mile away and this pervert wants nothing more than to feel them gripping his erection. So he gives her baby wipes for her filthy feet, and when her peds are clean, he invites her into the back of his van to do dirty things with them. Of course Angel agrees. After all, she has to pay him back for the ride somehow.
More Feets »