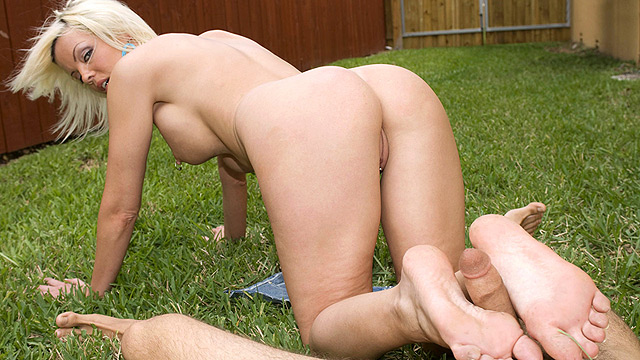 They say that the grass is always greener on the other side. We say the grass is always greener when there is a hot woman walking around on it with her bare feet! Jordan is a housewife who has nothing better to do with her time than to harass the lawn man. (He likes it.) Every time he finishes mowing her lawn, she comes outside barefoot and criticizes the job he has done. Then she demands that he wash her dirty feet, too. (Again, he likes it.) Jordan plays these little games with the lawn man because they both like to get naked outside and fool around in the grass. Pretty soon she is stroking his shaft with her feet and he is taking the ped pounding like the good footboy he is. It's a win-win situation because he wants to cum on the boss lady's feet and she wants him to show her all the cum he has built up just for her. Who would have thought that landscaping could be so dirty?
More Feets »
Raven's your average teen who likes to talk on the phone, text and go to the mall to find cute boys to hookup with. But she doesn't want to go all the way, yet. So when the cute guy she met at the food court keeps checking out her feet and then takes her number, she hopes he calls her for some good times. Our food court guy must know a good thing when he sees it, cause he calls her and asks to drop in at her house. And it's no surprise to her that when this guy comes over, he wants to rub her feet. That's when she tells him to take his pants off. You see Raven is good with her feet. How good? Good enough to stroke the cum out of this stiff one while rubbing on her juicy, pink pussy until she cums. And then she asks him to coat her teen tootsies with his jizz and plays with it. Smart girl...not a drop of cum goes to waste.
More Feets »
"Hi Darling. I have all these different stockings and I am going to try them on for you so you can help me pick something out," says Krista as she slides on a pair of shiny, nude stockings. She knows that you like it when she slides silky nylons and stockings over her feet and then over her calves and thighs. She likes to rub her legs together so you can hear the material as she strokes her feet and calves. But she has more pantyhose to try on, and so it's on to the black fishnets . When she puts them on, she rips them so that her toes and her red toenails stick out and tease you. Then she rips the ass out, too, so she can bend over and play with her ass and pussy while your eyes feast on her toes. It isn't long before she has her feet around your cock and she's jerking up and down while your cock gets harder and harder. Then she is slapping your meat with her soles and begging for cum. The question is, how much are you going to give to her?
More Feets »
"I'm lotioning up my feet and my legs and I am getting them ready for this guy who is coming out here," says Jordan while she rubs down her long legs in the sunshine. "I can't wait to touch his cock with my feet! I will give you a sneak-peek of them, but just for a second," she says and then takes off her heel. "And look at this! I have my feathers here so I can make him squirm and tickle him." Jordan likes to tease her victims, so she lays her boy toy out on the table and blindfolds him. Then she undoes his belt and starts to rub his cock with her high heels. By the time she pulls his pants down, his cock is rock hard. She teases him with feathers, her shoes and finally, she gives him what he wants...sex with her feet. She claims that her feet like his cock, but judging by the amount of sperm he splatters her gams with, it's safe to say that his cock likes her feet, too.
More Feets »
Jayda is a college student who needs to do odd jobs to make money for tuition. Today she is raking up Mr. Mack's yard for some quick cash, but she's a bit miffed that her feet are filthy and gross. Or is she? You see, she knows Mr. Mack likes to see her little feet covered in mud and muck. It makes his big dick nice and hard so that she can give him some dirty talk and dirty foot fucking, too. Watch as he washes and plays with her dirty peds and then slams his dong in between them. He coats this college coed's peds with his spunk and then pays her for a job well done.
More Feets »